04 Oct

Which email marketing platform is better for analytics?
Why is email marketing is important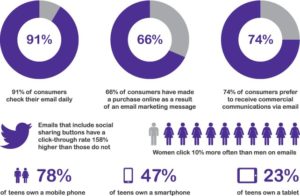 A good email marketing platform allows you to create highly engaging emails, segment users into groups and most importantly track the performance of your email campaigns.
There are a plethora of platforms available.  I'll be looking at – in my opinion – the four that offer a variety of analysis. Mailchimp, Sendinblue, AWeber and GetResponse
Mailchimp:
Unquestionably the most popular with over 8 million users (at time of writing) is Mailchimp. So much so, that if you were to take a poll Mailchimp has become synonymous with the word email marketing. BUT in this Game of Email Marketing Thrones – is the crown secure?
Sendinblue:
The Young Prince – Sendinblue is relatively new to the scene. Launched in 2011, it already has a strong fan base who like its mission to create the "simplest, most cost-effective email marketing platform. Cost effective it is but does it provide the much-needed analytics?
AWeber:
The old Duke – AWeber has been delivering email marketing since 1998. They have built a strong reputation for customer support and Innovation. With over 100,000 small businesses using their services and two decades of experience, don't count them out.
GetResponse:
The Wild Card – This email marketing platform has gone global in a short amount of time with customers in 182 countries and is available in 21 languages. More importantly, they claim a SPAM FREE solution, achieving deliverability rate of more than 99%.
So let's get right down to it.
When we think analytics the first words that everyone jumps on are open, click and bounce rate. But there is so much more – if we drill deeper.
Interactive graphs and data
All four platforms offer a veritable cornucopia of graphs and data. If numbers and charts are your thing, then AWeber is the one for you. It certainly offers the most analytics, allowing you to segment the data to your hearts delight. Though you will need to spend a good few hours ensuring you understand it – thankfully they offer phone support. Mailchimp is on the other side of the spectrum with its beautifully streamlined, easy to understand data (Yup I'm a design geek). Unfortunately, Mailchimp from the beginning decided to forgo phone support in favour of live chats and a comprehensive knowledge base. GetResponse falls in the middle of the two -Just right some would say. A good layout of analytics backed back excellent customer support.  Sendinblue trails the pack with a dashboard that looks like it was made for Windows 95
Unsubscribe rates
Keeping the unsubscribe rate below 1% is the ideal. But how do you keep track of your unengaged subscribers? Called "Greymails" or "Opaque Churns" These are the folks who rather than unsubscribing, just ignore any email, which can lead ISP's to drop your email into the spam folder.
Mailchimp and AWeber both offer 'opt-out' buttons and segmentation to adjust your email frequency and hopefully re-engage the Greymails. But I think GetResponse edges the lead with its "intuitive email – real live tracking" – essentially allowing you to react to changes in real time. Additionally, whereas Mailchimp and AWeber allow you to segment the data, the process is not as straightforward as the one offered by GetResponse and requires multiple steps. With GetResponse you can segment your data with just one click – Honestly I'm a fan.
Comparing between in-house campaigns
Comparing campaigns is a big analytical feature. Both Mailchimp and GetResponse also allow you to compare the results of two different campaigns, to see which one produced better results. Additionally, side by side comparison quickly allows you to evaluate which campaign engages better with your audience. However, there is a difference in that Mailchimp ONLY offers this on their Pro plan which is a hefty $199 a month. Ouch!
A/B Split testing 
Split testing allows you to compare two or more unique combinations. By testing and analysing results, you can better understand what subscribers respond to and use the data to optimise marketing campaigns. It's a pretty big deal which is why it's surprising that Sendinblue does not offer it. In terms of split testing, more is better. Mailchimp offers 3 combinations, AWeber four combinations and GetResponse a massive 5!
Because some people don't like reading and I like making tables, here's one I did earlier.
| | | | | |
| --- | --- | --- | --- | --- |
| ANALYTICAL FEATURES | MAILCHIMP | SENDINBLUE | AWEBER | GETRESPONSE |
| interactive graphs | | x | x | |
| open rate | | x | x | |
| click rate | | x | x | |
| bounce rate | | x | x | |
| unsubscribe rate | | x | x | |
| check against industry averages | | | | |
| revenue report/ROI | | x | x | |
| Subscriber location data | | x | x | |
| printable reports | | x | x | |
| email domain performance | | x | x | |
| click maps | | x | x | |
| A/B testing feedback | x3 | | x4 | x 5 |
| compare multiple campaigns | | | | |
| spam check* | | | | |
| real-time tracking | | | | |
So overall it looks like the Wild Card has taken the throne right? But wait there are a few things that we still need to take into account
Customer support
I've already mentioned that fact that Mailchimp does not offer Phone support. But in this day and age of live chats and knowledge bases do we really need it? Well, the simple answer is yes- there is no substitute for picking up the phone and speaking to a professional. Both AWeber and GetResponse have excellent customer support and what's more offer webinars hosted by experts – A plus point for both.
Pricing
Ok pricing is tricky as there are so many options. For the sake of it let's just assume you are a growing business with 2500 Subscribers and you send one email a week – so 10,000 emails a month.
Mailchimp – Offer unlimited emails and charges by the number of subscribers
Note: the price point seems to increase a lot between 2500-2800 subscribers, almost £1 per 100. At 5000 subscribers the cost would reach £40 a month
Sendinblue – Charge by the email and so you would be looking at the £39 mark.  Which is a little expensive when looking solely at the analytical performance.
AWeber – All their price structures give access to all there features and $29 (£22.35 at time of writing) is a good price.
GetResponse – At the 2500 subscriber mark, GetResponse does not the full analytical package. For that, we need to go to the Pro-Package with a minimum of 5000 subscribers.  The price point jumps to $49 (£38 at time of writing).
Overall verdict
If you have 2500 subscribers – AWeber offers the best analytical package for the lowest monthly price
If you have 5000 subscribers – Both AWeber and GetResponse charge $49 a month however GetResponse takes the throne in terms of Analytical power and customer support.
HONOURAB;E MENTION*
GetResponse has a nifty function called "Spam Score Check Feature". OK… So it's more of a pre-analytical tool but I thought it was worth mentioning as it uses a 3rd party program called 'Apache Spam Assassin' to check your messages for key spam words prior to sending. It's inbuilt and gives you a rating out a 5 to help ensure it falls into the all-important inbox.